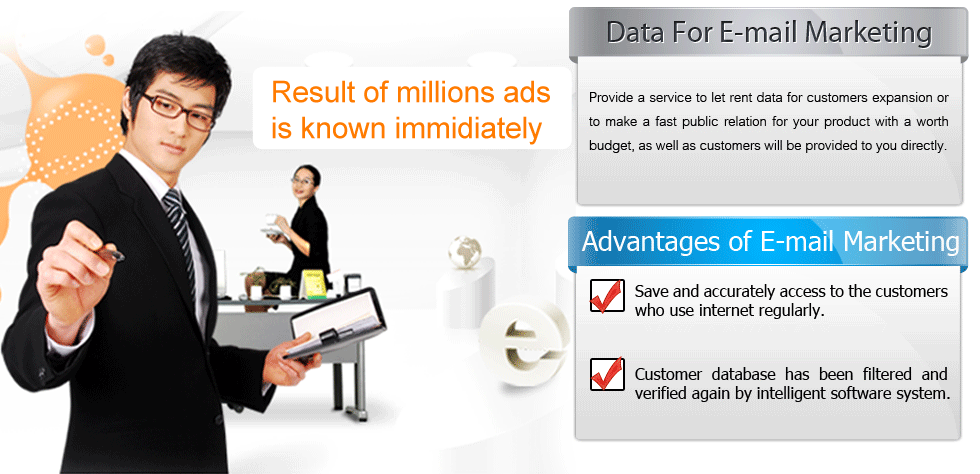 E-Mail Marketing Multi-System
Reaching your target group withQgoal E-Mail Marketing Database that can be sent in a large amount of recipients with online communication channel to transmit the messages, pictures, and other methods.WithQgoal E-Mail Marketing, you can communicate your products and services online in budget control. In addition, there are services in HTML media design in a form of questionnaire in order to acquire more information, register adding, website's visitor count, and sending e-mails to customers in database by intelligent software made from USA at the rate of 3 millions emails a day.
Database for E-mail MarketingService :
Provide a service to let rent data for customer expansion or to make a fast public relation for your products with a worth budget as well as customers will be provided to you directly.
Highlightsof Qgoal EMail Marketing:
- Save and accurately access to the customers who use internet regularly.
- Customer database has been filtered and verified again by intelligent software system.
Advantages of  E-mail Marketing Service :
Save and accurately access to the customers who use internet regularly.
Ensure that your deliveryarrives quickly and promptly.Don't need to worry about problems and force majeures on delivery issues such as traffic, weather, or any causing damages to the document.
Save budget and document resources, empower media user to be recognizedas an image of modernization and technology.
Communication channel that releasesinformation fast,increases brand awareness through viral marketing, and also sees feedback immediately and easily.
With the Qgoal supervision causes communication widely to a large number of target customers by fingertips within a seconds